My "Product Catalog App" / Sales Catalog App : [

Android

/

Iphone

]
Are you still using printed brochures and doing one-on-one emails to clients just to share product details. Say GOOD BYE to old ways of doing business. We offer smart app based solution to increase your sales and stand ahead of your competitors.
Who all will find this Mobile App useful for there Business ?
Textile Industry | Manufacturing Industry | Gems & Jewellery Industry | Food Industry | Garment Shop Owners | Toy Importors & Expotors | Furniture Distributors | WholeSales Distributors | Traders of any products | Sports Industry
Get your own Store / "E-Catalogue App" in just 3 Days
No waiting for months to have an App. Easy to Use and Fully Customizable.
---
1 - PERSONALIZED BRANDING
Own App with your Logo, Customize Look & Feel avaialble
2 - APP IN YOUR CONTROL
Upload and manage unlimited products & images freely
3 - GO LIVE INSTANTLY
Its time to grow business smartly !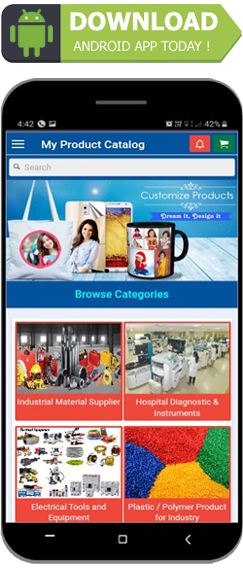 ---
One App that can do lot more than just be an online store. We give full control to you to manage and control what all information you want to show within your app. No need to be dependent on us to make changes within app content. No Technical or Programming Knowledge required... Our motive is to make your life similar and easier. Grow Sales ! Grow Business !!
Time to upgrade from just owning website to Company App ?
---
Key Features of My Product Catalog App
User Friendly WebPortal
Access Online , Anywhere Anytime and View and Respond instantly via App
One-Time Investment, Lifetime Use
No need to worry about recurring subscription fees. Buy one-time and have 100% control over your app content
Get, Track & Convert Business Opportunities
You get business opportunities as NEW LEADS or NEW ENQUIRES or NEW MESSAGES all within App instantly.
Fully Automated & Easy to Use
Our solution works as a fully automated system and doesn't require any IT expertise to manage your app independently.
Your App , Your Control
We provide Web-Based Admin Portal to give you 100% control over your app content.
Our App has No usage Limits or Restrictions
In our app you can create Unlimited : Categories / Product List / Users / Send or Receive Notifications / Generate Quotation
View and Control your App User independently
Your Client Base is your Gold Mine. Hence as Company you will control and manage your app users profile independently.
100% Secured & Trusted Solution
Your data is secured & encrypted you can be 100% assured about quality of service and support by WebXion Team.
and more...
We offer custom plans to meet all types of client requirement. For SME sector we have cost effective solution and customization options available to meet your exact business expectation at fraction of entire solution development cost.
All our services are Pre-Paid Plans. We have following payment options available :
Direct Net Banking
Credit Card
Debit Card
PayPal
Bank Transfer via SWIFT Code
Your account would be live within 30 mins of payment confirmation during Business Hours.
---
Snapshots of My Product Catalog all three modules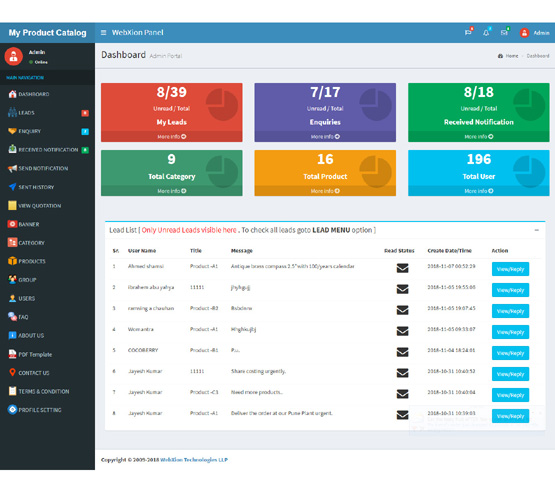 Web-Based Admin Portal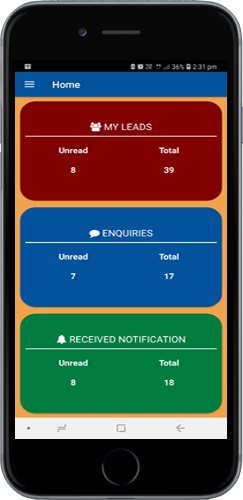 Your Sales Team
Android App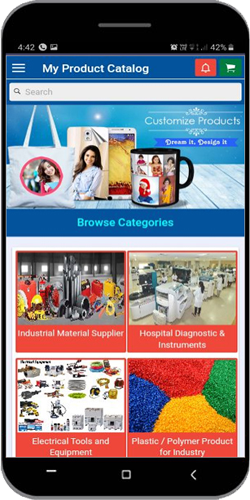 My Product Catalog : Android & Iphone App
Industries | Manufacturing Companies | Distributors | Traders | Sales Agencies | Retailers
Product Catalogue App | Product Catalog App | Sales Catalog App | Catalog App | Mobile Catalogue App | Mobile Store App | Best Product Catalog App for Business | Best Digital Catalog App | Best E-Catalog App | Best E-Brochure App | Product Catalogue App Solution for Sales Rep | B2B Product Listing App | Best Product Catalog App | Business Catalog App | Product List App for Distributors | Products List App for Traders | Products List App for Business | Product List App for Distributors | Smart Product Portfolio App for Distributors | Manufacturer Product Catalogs App | Distributors Product Catalog App | Stockist Product Catalog App | Retailers Product Catalog App | Service Catalog App
Australia, Austria, Africa, Argentina, Bahrain, Bangladesh, Belgium, Brazil, Cambodia, Canada, China, Colombia, Cuba, Cyprus, Czech Republic, Denmark, Dominica, Egypt, Ethiopia, Fiji, Finland, France, Georgia, Germany, Greece, Grenada, Hungary, Iceland, India, Indonesia, Iran, Iraq, Ireland, Israel, Italy, Jamaica, Japan, Jordan, Kenya, Korea, Kuwait, Kyrgyzstan, Liberia, Libya, Lithuania, Malaysia, Mexico, Mongolia, Myanmar, Netherlands, New Zealand, Nigeria, Norway, Oman, Pakistan, Palau, Panama, Philippines, Poland, Portugal, Qatar, Romania, Saudi Arabia, Singapore, South Africa, Spain, Sweden, Switzerland, Syria, Taiwan, Thailand, Turkey, Uganda, Ukraine, United Arab Emirates, United Kingdom, UAE, Dubai, United States, US, USA, Yemen, Zambia.
Pune, Mumbai, Baroda, Vadodara, Delhi, Indore, Jaipur, Bhopal, Lucknow, Surat, Bharuch, Ahmedabad, Nasik, Aurangabad, Bengaluru, Bihar, Chennai, Kolkata, Hyderabad, Noida, Kanpur, Nagpur, Ludhiana, Patna, Thana, Agra, Varanasi, Nashik, Meerut, Faridabad, Allabhad, Amritsar, Vishakhapatnam, Ghaziabad, Rajkot, Jabalpur, Coimbatore, Srinagar, Aurangabad, Ranchi, Jodhpur, Gwalior, Chandigarh, Trivandrum, Mysore, Navi Mumbai, Jalandhar, Bareilly, Kota, Bhubaneshwar, Gorakhpur, Rajpur, Kochi, Cuttack, Ajmer, Kolhapur, Dehradun, Jamnagar, Udaipur, Jhansi, Jalgaon, Anand, Thana, Gurgaon, Indore, NCR, Gurgaon, Gurugram.
Client Testimonials
We had been looking for ready to use Product Catalog App at affordable cost.

Thank you WebXion for meeting our expection.
We had tried many different online solutions in past, however results we got from WebXion : My Product Catalog App had been highly satisfactory.

Keep up good work guys - WebXion Team